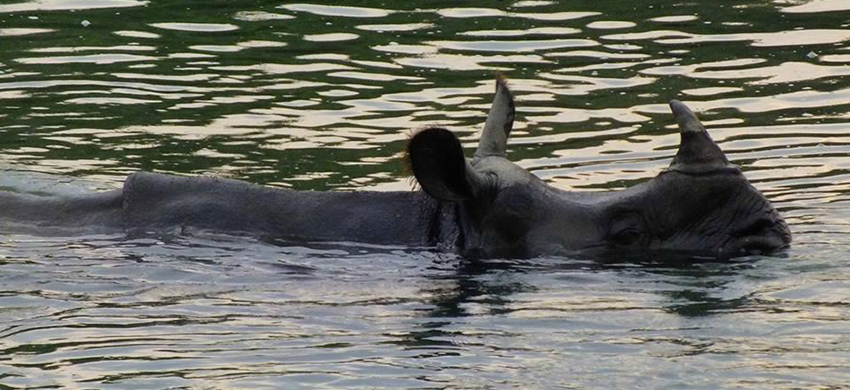 Introduction 
Chitwan National Park is the first national park of Nepal since 1973AD.  The park is recognized in Asia, and all over the world, also entitled by UNESCO as World Heritage site. It covers an area of 932 sq. km of Sal forest, water marshes and rippling grassland. This national park helps to illustrate Nepal's commitments towards conservation with the aim of protecting wildlife and their habitat.
Chitwan National Park is located in the subtropical Inner lowlands of south-central Nepal. It has the tropical monsoon climate with high humidity throughout the year. The immemorial panoramic beauty has attracted sages and seers as well as modern tourist too.
Access to Chitwan
By Air:
The District Headquarter of the Chitwan, Bharatpur has an airfield with direct domestic flight connections to Kathmandu; from Kathmandu you will reach our hotel after a short scenic flight of about 25 minutes. The pick up service is provided, it takes approximately 40 minutes.
By Land:
It approximately 4-5 hours scenic drive by car/van from Kathmandu/Pokhara to Sauraha tourist bus park. The scenery of hills, rivers, and local regions will be enough to spend the time in minutes. The hotel representative will receive you to the Hotel. It takes less than 5 minutes' drive to reach the hotel.
By Raft:
It is the alternative option to reach Hotel Jungle Vista via white water rafting trip on the Trishuli River. It gives the exciting and thrilling experience to raft down on a Himalayan river.
What to Bring?
Chitwan National Park has a sub tropical climate. The weather is pleasantly warm and sunny most of the year, so we recommended you to wear light clothes with natural colors. In the winter season from November to early March morning and evening is cold, warm clothes are necessary. In the Rainy Season like June, July and August rainwear is needed. Do carry the binocular all year round.